Christian Lemmerz: La Apparizione, 2017
Christian Lemmerz's La Apparizione, produced earlier in 2017, aims to disrupt stereotypes of religious imagery, engaging the viewer in a discomforting, close-up experience with a burning corpse of Jesus Christ, which 'rains' embers. Jesus and other religious personages have figured in the artist's work before, and 'Bodybuilder' Jesus first appeared in Lemmerz's oeuvre in 2013 in sculpture form. Here, he comes alive in death, his rippling muscles writhing in agony, dripping golden blood into the physical space of the viewer. The aim of this VR work is to enhance the relationship the viewer forms with the imagery; its beauty, excess, death and pain.
La Apparizione was shown within Biennale Arte 2017 – 57th International Art Exhibitionat the Fondazione Cini as part of the summer's Faurschou Foundation presentation in Venice.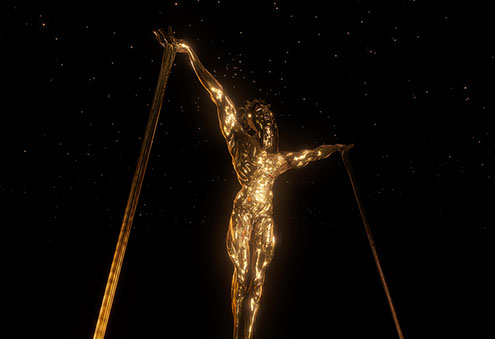 Khora Contemporary
Khora Contemporary was created to become a bridge between the artists and Virtual Reality developers. We provide artists with best assistance to develop and unleash their imaginative visions exploring this new media and its limitless possibilities. We offer opportunity for artists to research the depths of VR and find inspiration to create a new body of work. With the latest technology at hand and an exciting list of artists in the pipeline, Khora Contemporary is set to become a pioneer of this fascinating new medium, assuring the best quality of the viewer experience. It is only a matter of time before Virtual Reality artworks populate the permanent collections of museums, public spaces and our living rooms. Given Khora's expertise in the Virtual Reality field and Faurschou Foundation's longstanding presence in the most professional segment of the art world, Khora Contemporary is well equipped to expand artistic practice within the Virtual Reality medium.
At KIBLIX 2020 Allegra Shorto, art director of Khora Contemporary, will give a presentation on Khora Contemporary's mission, objectives as well as current and future VR projects in collaboration with renown contemporary artists during the on-line Panel discussion.